Cool Record Edit Pro 9 with license key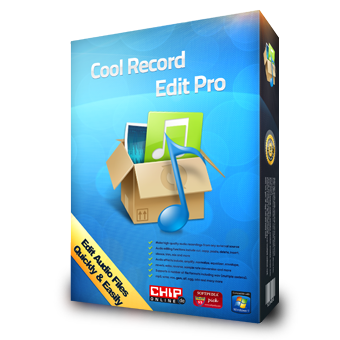 Download Cool Record Edit Pro 9 with license key. Record any sound from from microphone, line-in, streaming audio from Internet or music played by media player software with losing any quality.
Cool Record Edit Pro 9 lets you record in 4 easy simple steps.
Step 1: Activate the recorder
First you need to activate the recorder, to do this run the program, click on home tab and select new record option, a new sample window will be open  which will ask you to select your desired bitrate and channel.
Step 2: Selecting the recording source
In this step you need to choose the input recording source, it can be any,LP's, stereo, microphone, etc. Line in is for the sound coming from cassettes, tapes, CD/DVD player; Stereo Mix is for online music, web radio or any sound played in your computer; Microphone is for the sound from microphone.
Step 3: Recording settings
After the selecting the input source, you may select your desired recording settings such as timer record, record with silence, adjusting windows mixer settings
Step 4:  Record
When you're done with the settings, hit the record button, the sound level would be showing in the imput level and here you can adjust the sound volume aswell. when the recording is done, click on pause and then select keep option, the recording can be found in audio editor. you can save to any format from there.
Cool Record Edit Pro 9 with license key – Free Giveaway
Cool Record Edit Pro 9 is a shareware software which costs $29.95 for 1 year subscription and $59.95 for unlimited access but as a part of giveaway campaign held by giveawayoftheday, users can download the complete full version with free license key.
To Get your Cool Record Edit Pro 9 with Free License Key, follow the steps below.
Download Cool Record Edit Pro 9  | Runs on Windows XP/Vista/7/8/8.1/10
Visit the Giveaway page and Click on Download now button
 If you wish not share the promo, you can click on "Alternatively you can get a personal download link via email" at the bottom
Check your email, activate the product using received serial key.