Malware Hunter Pro 1 Year Free Serial Key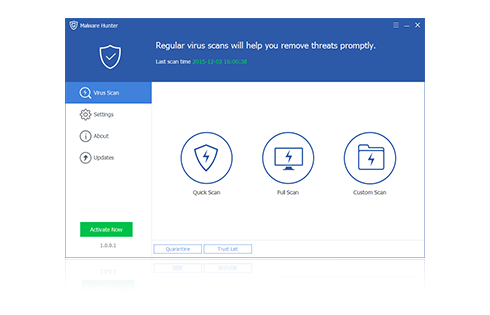 Get a free Glarysoft Malware Hunter Pro license for 1 year. Antivirus scanner that uses the Avira engine to detect and remove active threats on your PC.
Malware Hunter is an antivirus scanner from Glarysoft that detects and removes active threats in the Windows system using the Avira engine. Allows performing fast, complete and selective scanning, as well as scanning through the context menu.
Version PRO adds the ability to configure automatic anti-virus scan on a schedule to maintain the security of your system paired with the main antivirus that has protection in real time.
Features of Glarysoft Malware Hunter
Use of anti-virus technologies Avira allows you to detect and remove all types of malware and potential threats.
Fast anti-virus scanning for instantly checking the security status of your system.
An additional level of protection for your main antivirus in the Windows system.
Free license of Malware Hunter Pro For 1 Year
The offer is valid until October 7, 2017.
To obtain a free Malware Hunter Pro license for 1 year, follow these steps:
Go to the promotion page
Specify an email address, select "I'm not a robot" and, after capturing, click "Get My Key Now".
The license (Malware Hunter Pro License) will be sent to the specified email address
Download Malware Hunter  and install it on your computer by activating the received license.